DNS was awarded HDMI 2.1 certification from the HDMI Association on September 29, 2020, making it one of the first manufacturers to receive UHS cable certification.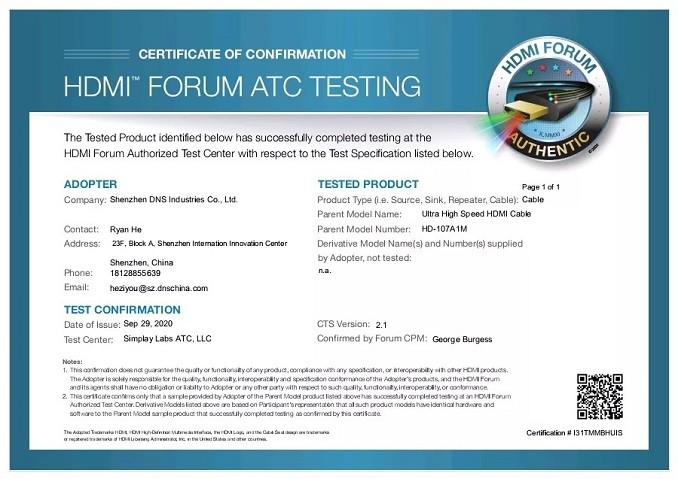 HDMI Specification 2.1 is the most recent update of the HDMI specification and supports a range of higher video resolutions and refresh rates including 8K60 and 4K120, and resolutions up to 10K. Dynamic HDR formats are also supported, and bandwidth capability is increased up to 48Gbps.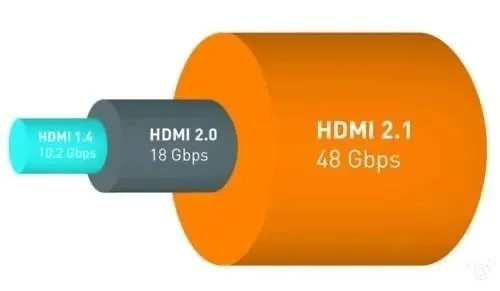 Besides the mentioned bandwidth requirement, for the UHS cable assembly testing, low EMI (electro-magnetic interference) is also required to achieve so that the cable can work perfectly without any interruption from nearby wireless devices. The cable assemblies shall be evaluated to meet requirements that when carrying HDMI signaling, all category 3 Cable assemblies shall meet Class B radiated emissions limits in CISPR 32: 2015, Annex A, Tables A.4 and A.5 with 6 dB margin over a frequency range of 30MHz to 6GHz. All of those factors make it harder to pass the HDMI 2.1 testing compared with previous HDMI certification versions.

  In the early stage of the announcement of HDMI 2.1 standard, DNS has been focusing on the R&D and storing of HDMI 2.1 technologies, and has successfully and independently developed high performance connector and cable that meet the requirements of HDMI 2.1 standard.
 In the middle of February 2019, DNS HDMI connector was the first to pass HDMI 2.1 testing. Until September of this year, DNS sent the HDMI cable assembly for testing when HDMI 2.1 cable assembly testing was available, and it passed the testing and was awarded the certificate successfully with only one time testing.