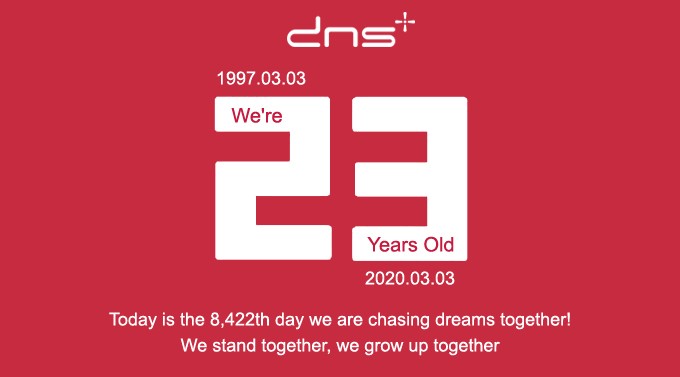 On March 3rd, we celebrate the 24th anniversary of DNS company.
  This year we feel profound changes that the COVID-19 pandemic has infected China and on us. We've been focusing on two questions:
  First, as the world becomes more uncertain, the probability of black swan events becomes higher. Just like yesterday, we gathered together at the annual meeting to look forward to 2020. Unexpectedly, in just one week, the situation of the epidemic has changed our imagination. "Tomorrow and disaster you never know which one comes first" becomes the pressure we have to face every day, which greatly tests the survival wisdom of enterprises. What kind of organization should we form for a company who have been committed to "sustainable development" to face this uncertain world?
  Second, what can we learn from the response strategies adopted by different countries according to their own conditions? The most typical examples are China and Singapore. Dr. Zhang Wenhong in Shanghai called Shanghai's prevention and control system Shaolin School and Singapore's Wudang School. So far, both martial have worked well. And DNS's development path is suitable for which scet?
  Uncertainty is inevitable, opportunity is inherent in any risk, and the outcome depends on how we respond. First, do we continue to build a resilient organization ahead of risks? Second, when a risk comes, do we work together and do everything we can to eliminate the adverse effects and to turn passivity into initiative? We can improve If we're not doing enough of either.
  At the beginning of the epidemic, due to various reasons, We missed the best opportunity for prevention and control. After the direct intervention of the central government, the situation was quickly controlled and continued to improve. In the process, there was much worth studying and learning in terms of personnel scheduling, communication mechanism and implementation of measures. Once the goal is set, a country can be so efficient, let alone a small and medium-sized enterprise like us? Therefore, we will change the old practices that hinder the evolution of organizations and affect the efficiency of organizations one by one. Once an effective organizational system, open and transparent communication mechanism are established, DNS will unleash great potential.
  If someone asks me whether I doubt the realisation of this year's sales because of the epidemic? My answer is to remain confident. The epidemic hit the economy, but it also made me see the direction of improvement and improvement of DNS. Faced with the same situation, some people are sad and self-pitying, while others stand firm and brave. As long as we are calm, proactive and seize the opportunity, teamwork together, and meet the needs of customers before others, we will be able to gain more experience and growth, which is the proper responsibility of DNS at the age of 23.
  Finally, I want to thank all of you who have been working with DNS over the years. You are the driving force of DNS's growth.
Lin Ziqiang
March 3, 2020