In July 2020, DNS was awarded the Best Commercial Partnership- Accessories Award by Dixons Carphone, a European electronics retail chain. This is our fifth award from Dixons Carphone Group, following the "Best New Supplier", "Best New Product Development", "Best Quality Control" and "Best Delivery" awards. Here, we sincerely thank our partners for their recognition and support!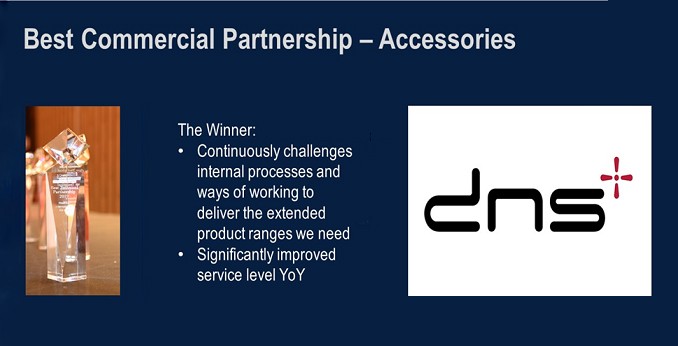 This honor once again validated the international market's recognition of DNS's overall strength and service level, and gave new impetus for DNS's development.
  As a company who pays great attention on "good faith", delivery on time is the goal that every member focus on, which directly reflects we attach great importance to contract and commitment. DNS achieved the goal and got the customers appreciations through the system of supply chain management, quality management and professional customer service. We hope that all DNS employees will make efforts in the future work, so that our products and services can continue to optimize and upgrade, continue to provide customers with better products and services, and help customers improve their market competitiveness and share. At the same time, I believe that DNS will also be better, we all look forward to that day coming soon.